Welcome to the Haruspex Blog
Setting up a Credit Card Interface on Workstation
Did you know? If you use Element or Cayan credit card processing and would like to allow a SouthWare user the ability to charge credit cards in an Order Entry,Service Order Entry, Invoicing or AR Cash Transactions, their specific workstation needs to be setup with certain permissions. See setup steps.
Using Status to find a Workstation Number
Learn a quick and efficient way to determine which workstation a SouthWare user is logged into. This allows for a brief review of workstation number, logon name, current open activity, and Company ID. If you get an error message about "record in use" this is a way to review who might be using that program or screen. View Document
Just a Note about Purchase For Line Items
SouthWare's Order Entry Portal and Service Order portal support asking the question to create a PO for Purchase-For Line items
The OE Portal and SO Portal now honor the "create PO question" from the sales or service operator record. Previously, the portals would automatically generate a PO when you exited the portal if the operator was set to automatic or ask to create a PO. The pages now look at the operator ID from XX99 to determine if it should ask the question or automatically create a PO.
New Functionality for QS Service Portal
SouthWare has been busy adding new functionality to the QuickScreens Service Order Portal.
In the QuickScreens Serive Order Portal, they've added an option to create a new service address.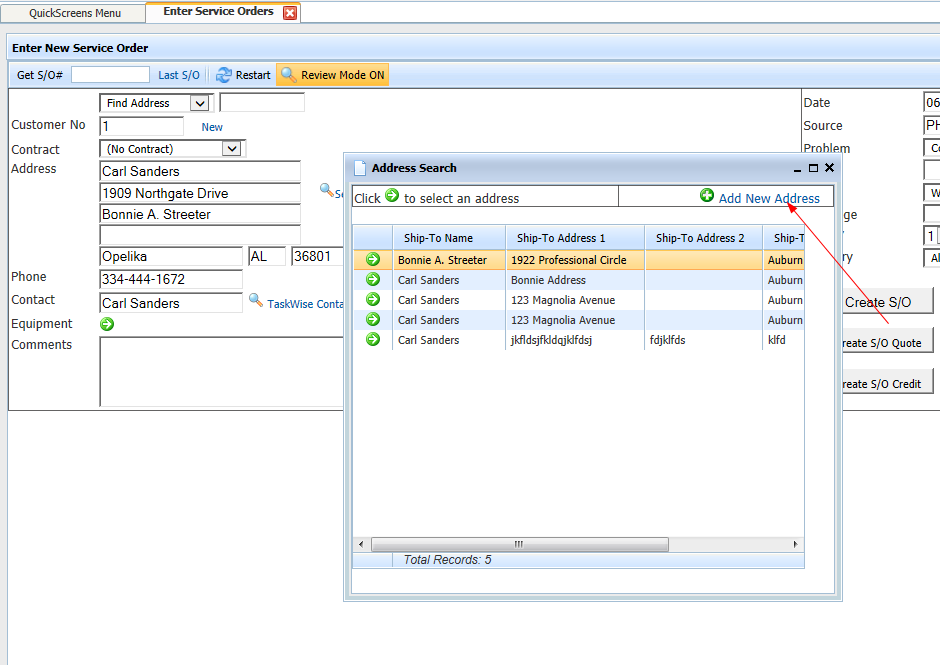 When choosing a piece of equipment in the Service Order portal, you can view details about the equipment and equipment history.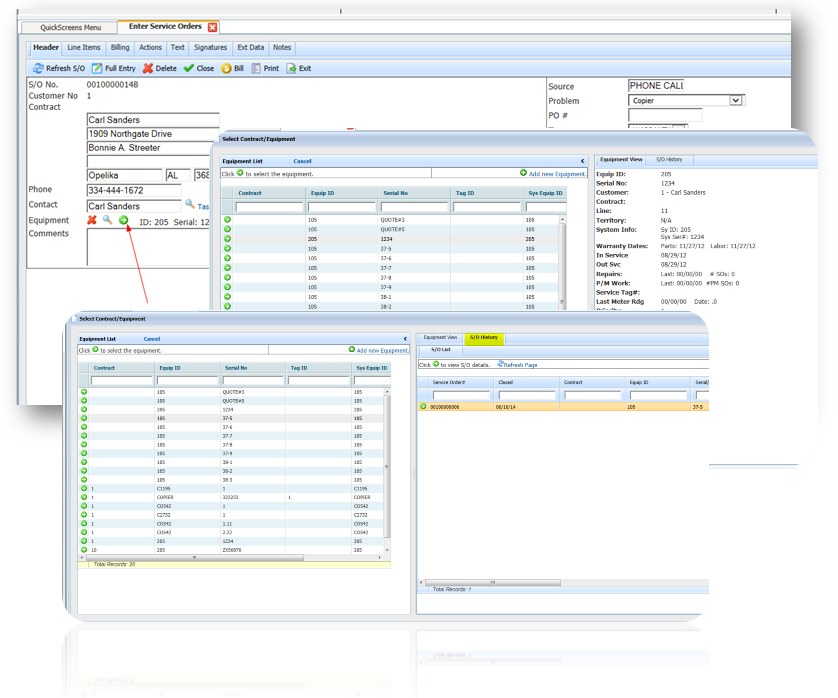 Lastly, you can now add customer equipment on the fly.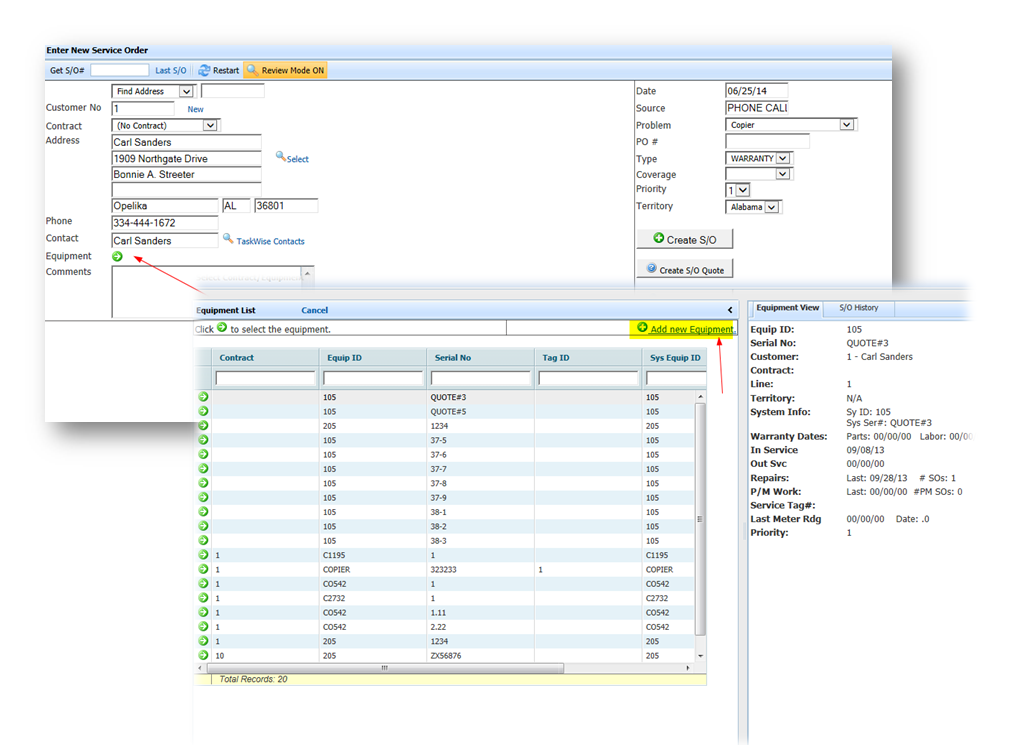 Techie Tip - Using Notes
New -- Has Notes/Attachments flag for key files
For everybody who has tried to access SouthWare Notes in reports, you'll welcome this news.
SouthWare has added notes and "has notes attachment flag" to Order Header/Order Line, SO Header, SO Line, Customer and stock files.

New Data Dictionary fields:
AR01 field 94 - Has Notes
AR01 field 95 - Has File Attach Notes
IV01 field 269 - Has Notes
IV01 field 270 - Has File Attach Notes
RS07/RS10 field 270 - Has Notes
RS07/RS10 field 271 - Has File Attach Notes
RS08/RS11 field 166 - Has Notes
RS08/RS11 field 167 - Has File Attach Notes
SV04/SV14 field 317 - Has Notes
SV04/SV14 field 318 - Has File Attach Notes
SV06/SV16 field 145 - Has Notes
SV06/SV16 field 146 - Has File Attach Notes
Double Check that Signature
New Option to view Service Order Summary with signature from SO Portal and Remote Tech Portal
You can now add an option to the SO Portal to display a history Service Order with the signature included.
SouthWare has also added other functionality - like the close option to S/O list to view history S/Os and a View Summary option for techs to view Service Order history.
Check it out!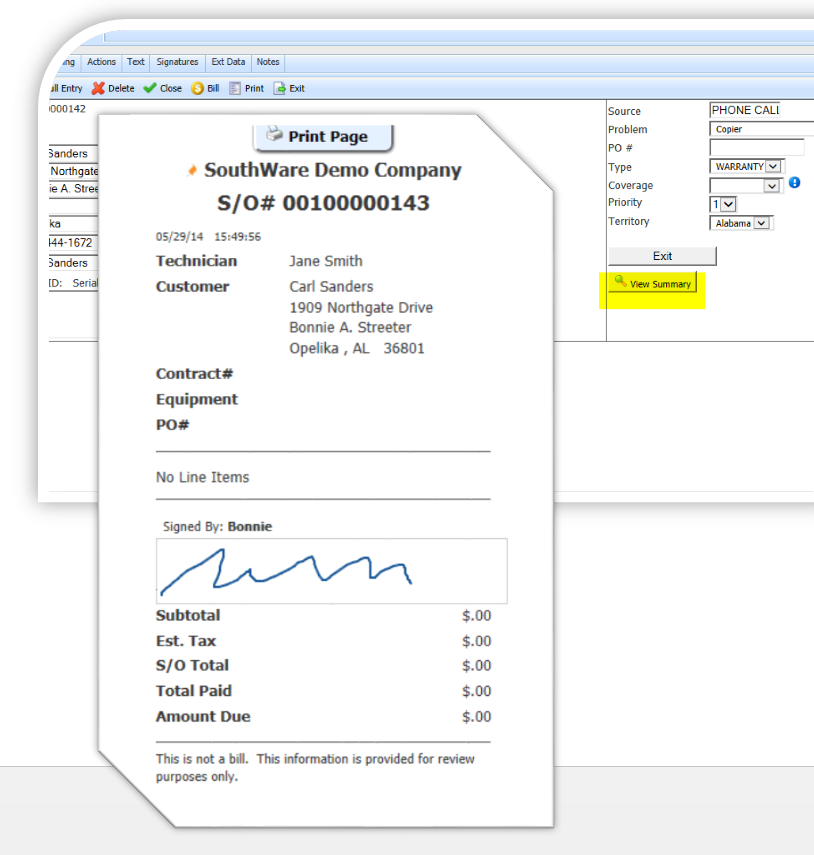 ID: SOHIST
New Remote Sales Access for Tablets
New Remote Sales Portal (for tablets/touch screen)
SouthWare has been busy creating better remote access for the "on-the-road" salesman.
The Remote Sales portal allows a mobile salesperson to access and update SouthWare orders and manage customer relationships over an internet connection. The layout and functionality of this portal are optimized for tablet and touch screen use.
Feature Highlights
Highlights of features included in the portal include:
Easy tabbed access to major categories of sales-related info

Each tab maintains its state to give you multiple open desktops

Start Tab for overview and find functions

Order status and trends

Invoice trends

Task status

Pipeline status

Global Find/Navigate

Search by name or document number

Find includes all major files

Zoom from search list to related details portal

Accounts Tab

Summary of all accounts

Find account by name or list all accounts

View A/R aging for accounts

Add a new prospect record

Customer Account Portal

Summary and overview

Access to contacts

All open orders and past invoices

Sales opportunities

Tasks

Receivables

Service Orders

Service Contracts

Notes and Extended Data

Prospect Account Portal

Summary and overview

Contacts, opportunities, tasks, notes, Extended Data

Contact Portal

Summary and overview

Tasks, notes, and Extended Data

Orders Tab

Orders summary and overview

Inquire a stock item

List orders and quotes and invoices

Add a new customer

Access an existing order

Order Entry

General order header and totals info

Line item entry including search and recent customer purchases

Miscellaneous charges

Shipping info

Optional signature capture

Optional payment entry

Text entry

Notes and Extended Data

Optional Order Summary page (with signature) for review and/or printing

Service tab

Listing of service orders

Option to view (optional edit)

Tasks tab

List of tasks (open or closed) with zoom options

Option to add new task

Pipeline tab

Analysis of sales opportunities including forecast, stage funnel chart, stage analysis, and

opportunity listing

Analysis tab

Multiple analysis charts and lists including sales pipeline, monthly sales, and commission

sales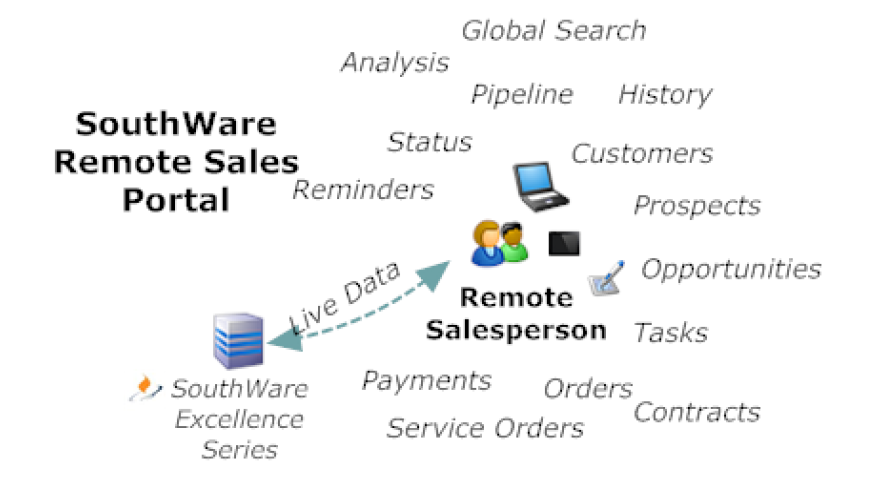 New Remote Features - Order Entry Portal
Attention Remote SouthWare Users - New Remote Order Entry Portal (for tablets/touch screesn)
This new remote Order Entry portal allows you to edit new and existing sales orders. The portal is organized into several pages for easy access to all related data.
View the documentation below or watch the video today!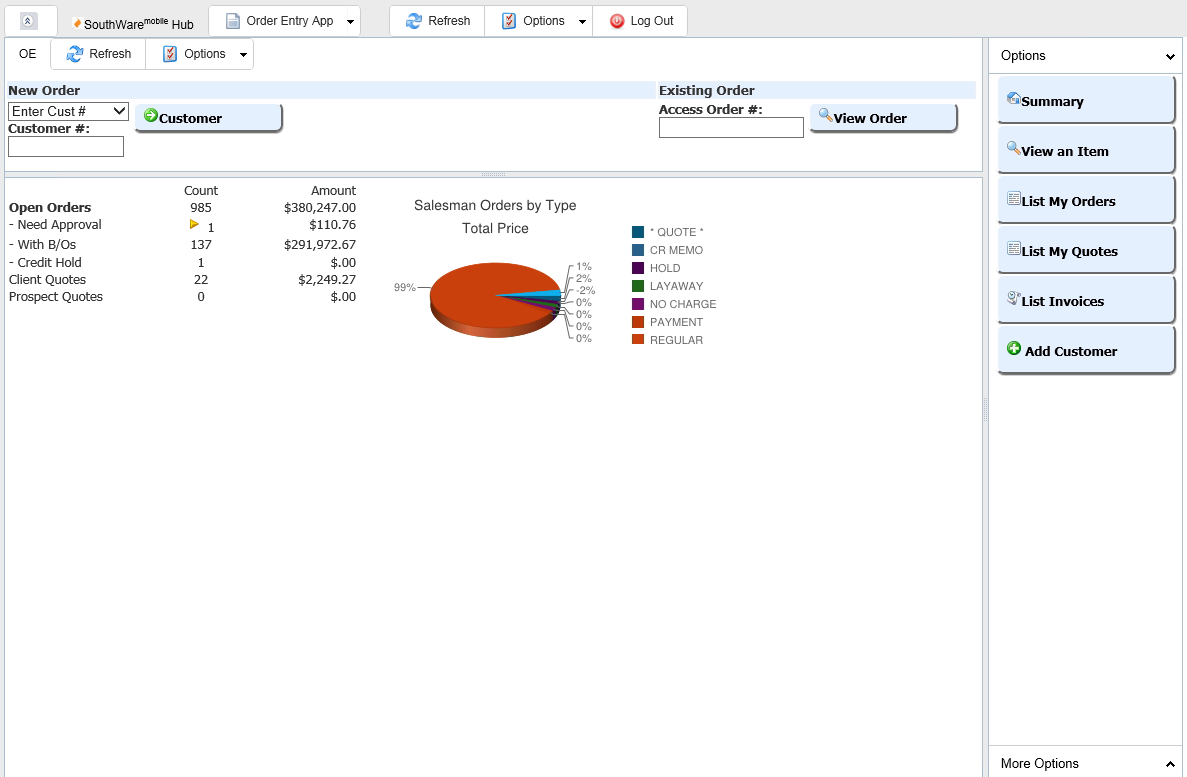 Add a Quote for a Prospect
More Articles...